ZOO/WILD's 2014 Activities . . .
MOSI Project (Mosquito Onset Surveillance Initiative)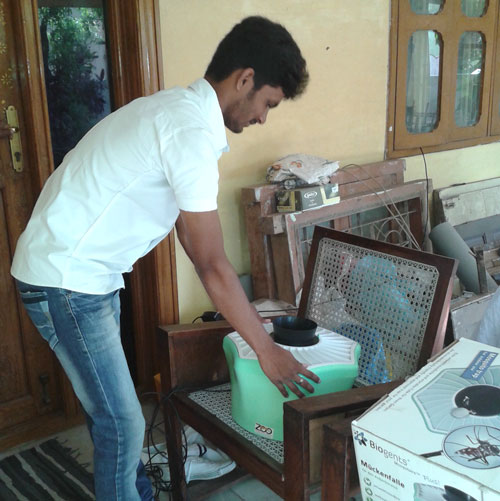 Setting up Biogent Mosquitaire trap by a volunteer

Principal Investigator: B.A. Daniel
Sponsor: Zoological Society of London

Mosquito Onset Surveillance Initiative (MOSI) project is a permanent international mosquito monitoring programme initiated in 2010 by the World Association of Zoos and Aquariums (WAZA) and the Institute for Zoo and Wildlife Research (ISW), in concert with the Zoological Society of London (ZSL) and Imperial College.
Principle objectives of Project MOSI
Establish an international network of 60 permanent mosquito monitoring sites.
Confirm baseline species composition, abundance and activity profiles.
Continually monitor for changes in species composition, abundance & activity profiles.
Help clarify the impact of climate change on a large number of mosquito species.
Provide an early warning network for detecting movement of disease vector species.
Help efforts to evaluate and better control mosquito vector disease threats.
Help develop improved mosquito attractants and trapping methods.
For more details of the project click here. ZOO's PRINT June 2014.