ZOO/WILD's 2015 - 16 Activities . . .
Integrating teaching and folklore theatre to promote HECx in Tamil Nadu, India
Principal Investigator:
R. Marimuthu, Senior Education Officer
Grantee: International Elephant Foundation

This proposed project is to reach school teachers, school children and community who lives in or nearby Northern Western Ghats (both Sathyamangalam and Erode forest divisions) in Erode District of human elephant conflict and teach them about safety education on human elephant coexistence through teachers training, school awareness programme for children and street play (Theru Koothu is a folk theatre one of the oldest and most powerful art form) for the communities in order to save their lives and live harmoniously with elephants.
---
International Elephant Foundation-HECx School Education Programmes
As part of the IEF sponsored project "Integrating teaching and folklore theatre to promote HECx in Tamil Nadu, India" two school education programmes were conducted by the Teacher Training participants on 27 and 28 January. The first programme was held at Panchayat Union Middle School, Hasanur, Thalavadi arranged by Mr. P. Venkatachalam. In which 75 students and five teachers participated.

The second programme was held at R.C. Middle School, Gundri, Kadambur and Mr. J. Dennis Rosario arranged list of HECx activities conducted by the students. In both the programmes, students enacted mini dramas, shared elephant informations, and elephant proverbs and went on a rally around the village by wearing masks and holding placards. The students are mostly from tribal villages. Some of the students were interviewed for their experience with elephants and shared very interesting information. The programme was very useful for them to learn more about elephant behaviour and tips on do's and dont's in elephant areas in order to save their life, agriculture and property. Mrs. T. Geetha, Eco-club Coordinator, Erode, Mr. L. Vijyaendran, NGC Coordinator, Gobi, Mr. T. Sakthivel, SEWA and ZOO staff witnessed the programmes.


Detailed Report in ZOO'S PRINT February 2016.
---
HECx-Teacher Training workshop
Zoo Outreach Organisation conducted two days teacher-training workshop on Human Elephant Coexistence held on 26-27 August at Gobichettipalayam for 35 teachers and they all come from the schools located in human elephant conflict areas of Erode Forest Division. The objective of the workshop were: teach about Asian Elephant's facts, to improve their attitudes towards wild elephants so as to avoid confrontation and conflict whenever possible and to bring about understanding the cultural and ecological importance and conservation problems of Asian Elephants and teach the same to their students and also the villagers nearby to the school. International Elephant Foundation sponsored the workshop and coordinated by Erode District Eco-Club Coordinator, National Green Corps Coordinator and Sathyamangalam Environment and Wildlife Association.
---
Human Elephant Coexistence-Street plays in Erode Division
International Elephant Foundation (IEF) sponsored street plays on Human Elephant Coexistence were conducted in selected 10 Human Elephant Conflict villages in Erode Forest Division from 8-12 August 2015. These villages come under the forest ranges of Bhavanisagar, Sathyamangalam and T.N. Palayam of Sathyamangalam Tiger Reserve. The objective of the street play is teaching the villagers about elephant conflict prevention, mitigation and do's and don't's in elephant areas. Adhiyamaan Kalaikuzhu of Krishnagiri performed the street plays. Sathyamangalam Environment and Wildlife Association (SEWA), Village Forest Committee and Local Village Heads coordinated the event.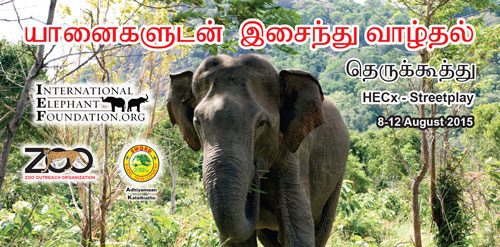 Detailed Report in ZOO'S PRINT September 2015.
Video: Street play on Human Elephant Coexistence