Sanjay Molur
Executive Director Trustee, ZOO
Secretary, WILD
I moved to Coimbatore 27 years back from Bengaluru when I joined ZOO as a program officer. Having assisted Sally in all of the ZOO activities I specialized as a research and conservation scientist; the philosophy I share with Sally I continue in her shoes as executive director. I have a PhD on bats and rodents of Coorg and I specialize in risk assessments and conservation planning of species (plants, animals and fungi), in promoting peer-reviewed publications, and in communicating science for conservation. I share common likes of wilderness and school outreach with my wife Payal and our daughter Elakshi Mahika.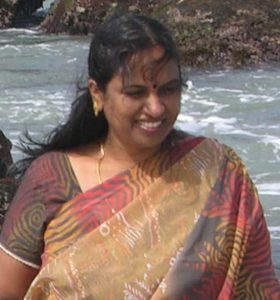 Latha G Ravikumar
Finance Director Trustee, ZOO
Treasurer, WILD
I began as an accountant/computer operator and now with an MBA and as the Finance Director and Administrator I oversee accounts, administration and legalities. I'm also integrally involved in all the projects, Zoos' Print, scientific databases, web designing, helping with developing educational materials, travel planning, computer services among others.  I have been working in ZOO more than 29 years. I got to learn many things from my mentor, friend and boss Ms. Sally Walker to whom I am grateful beyond words.  My big family (parents, brothers, hubby Ravikumar, kids Rajesh, Tarun and Manjari) are my strength and are willing volunteers of tasks at ZOO.
B.A. Daniel
Secretary Trustee, ZOO
Scientist
I hail from Rajapalayam, known for the hound dog. After graduation from Madurai Kamaraj University, I earned a Ph.D. from Kerala University. I worked as honorary biologist at Grizzled Giant Squirrel WS until I joined ZOO in 1995 and took the challenge of promoting invertebrate conservation in South Asian countries. I chair the IUCN SSC South Asian Invertebrate Specialist Group and run a network of invertebrate experts in South Asia. My special interest is conservation education and help develop education materials and modules. I travel extensively and love to help needy people. My wife Rebecca and son Josh support me in all my conservation endeavors.
R. Marimuthu
Education Officer
I am a native of Tiruvarur District of Tamil Nadu and have a graduate degree in Wildlife Biology from A.V.C. College, Mayiladuthurai. I worked as a biologist at Arignar Anna Zoological Park, Chennai for a few years. I first joined ZOO as a Research Assistant in 1990, worked for four years and worked in Brunei before rejoining ZOO in 2004.  Though my special interest is creating conservation awareness to the different strata of people in the society, of late I am concentrating more on raising funds to do field projects, arranging capacity building training for forest personnel and education projects. My pastime is visiting zoos and protected areas in India and abroad.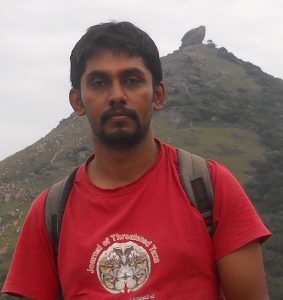 B. Ravichandran
Managing Editor, JoTT
I joined as an Administrative Assistant in 1999 with office clerical works and assisted in more than 15 workshops (PHVA, CAMP, Field Technique, Teachers for Tigers series, SAZARC). While maintaining the library at ZOO, I developed DTP skills and became an editorial assistant for Zoo's Print Journal in 2014. Later I Joined JoTT as a Managing Editor when it started in 2009. I have an undergraduate degree, but my attempt at a graduate degree was in vain as JoTT and personal life kept me very busy. I'm married and have one daughter.  Hobbies are sports, listening to music and photography.
K. Geetha
Accounts cum
Project Executive
I have been working in ZOO for more than 20 years.  I help with accounts, administration, projects and educational printing and compilation works.  I am always willing to do any job that is given to me.  I love to be a part of ZOO.  My hobbies are making rangoli, listening to music, and helping people. I have two sons named Veerakumar and Ashok and both have completed engineering degrees and are ready for their adventure.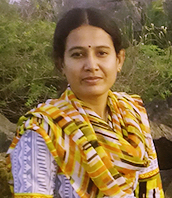 S. Radhika
Accounts cum
Project Executive
I have been working in ZOO since 2007.  I help with projects, accounts, administration, typesetting, web work etc. I am a native of Coimbatore and have a graduate degree in commerce.  I love to learn new things.  I have a smart 11 year old daughter Sanjana and a hardworking husband Suresh. I love to watch movies and spend time with family.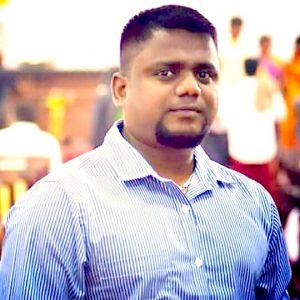 G. Arul Jegadish
Sr. Project Assistant
I joined ZOO in 2000. I started off as helping the office staff in various things. I also assisted in setting up and running the screen printing unit for about 10 years. Presently, my work includes typesetting, scanning, education packets compilation, communication etc.   My hobbies are drawing, photography, and I love to help girls in the office.  I am very interested in learning about handling snakes. I love bikes and I enjoy the thrill of the Bullet 350cc I bought recently.
K. Raveendran
Office Assistant
I have been with ZOO for more than 10 years and have earned my keep as a 'go-to' guy for errands involving banking, communication, circulation, scanning, photocopying, etc. I have a daughter Amirtha who is studying hospital administration. My wife Sreeja and I are proud to have recently constructed our own house. I enjoy working on compiling education materials and assisting Sarojamma in her activities as well. My hobbies include gardening, playing games, reading and traveling, and I'd like to make some time for these.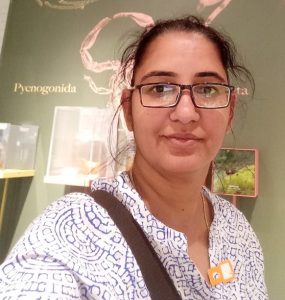 Manju Siliwal
Research Associate
I earned my doctorate degree on 'Spiders of Agroecosystem' from M.S. University of Baroda, Gujarat in 2002. I joined as a post-doctorate fellow at WILD in 2002 to study mygalomorph (tarantula and related) spiders. In the last two decades I have worked on taxonomy of spiders and have developed expertise on mygalomorph systematics. I teach spider taxonomy to undergraduate students and researchers. At present, I am affiliated with the Wildlife Institute of India, Dehradun for the DST-Women Scientist (A) grant for a molecular systematics project on mygalomorphs. I have over 55 peer-reviewed publications and have received many international grants.
Priyanka Iyer
Researcher / Editorial Assistant
I fell in love with wildlife a long time ago, which has kept me going. After an undergraduate degree in mass communication from Mumbai University I pursued my passion by exploring various aspects of conservation such as publications, education, field research and policy work. After over 5 years of work experience including projects concerning freshwater biodiversity conservation, I went on to earn an M.Phil in Conservation Leadership from the University of Cambridge. I am currently working as an Associate Editor of JoTT and a researcher interested in marine life. My hobbies include reading, dance and wildlife art.
P. Vishal Ajuha
Researcher
Vishal Ahuja hails from Chamba and is a teacher by trade. Vishal joined the Himalayan Langur Project in 2012 and works with Martina in Chamba. He oversees the Himalayan Langur Education Program in schools in Chamba and is passionate about trekking. He is married and has acute little daughter.
Arya Sidharthan
Researcher
Arya is a PhD student working at the School of Ocean Science and Technology, Kerala University of Fisheries and Ocean Studies (KUFOS), Kochi, India. She has an undergraduate and graduate degree in Zoology from the University of Kerala, and has a keen interest in molecular ecology and conservation. Her current research focuses on the diversity, phylogenetics, evolution and biogeography of freshwater fish. She is currently associated with WILD, working on a project to study the impacts of the catastrophic Kerala floods of 2019 on endemic and threatened freshwater fish species of the Western Ghats.
Sindhuja
Researcher
I hold a master's degree in Environmental Science and my interest lies in conservation biology and primate behavior. I have worked on macaque behavior in the wild and captive. My current work is on studying mother-infant interaction in macaques at Thenmala, Kerala under the supervision of Dr. Malgorzata Arlet.
Ashvita Anand
Researcher
Ashvita is a psychology graduate, hoping to study and understand animal behaviour and how this would help conservation efforts. Writing has been a natural way of expression for her, and she is now exploring science communication through this medium. Her research interests include non-human primate behaviour, human-animal interactions, and wildlife conservation. She has previously worked on a project in Great Nicobar on the Nicobar long-tailed macaques. Currently, she is a Research Assistant on the Macaque Personality Project on Bonnet macaques in Kerala.
Nagarathna Balakrishna
Researcher
I am Nagarathna Balakrishna. I have completed my Master's in Ecology and Environmental Science (2019) from Pondicherry University. I am passionate about wildlife ecology and conservation. I am particularly interested in looking at how anthropogenic activities are driving major changes in animal societies such as speciation and how it affects their ecology and behaviour.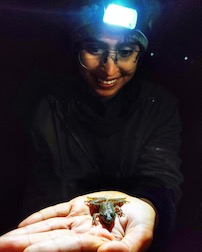 Akanksha Pandey
Researcher
Akanksha has a Master's in Development and Labor Studies from JNU. She has always been fascinated by non-human primate society and wishes to further research animal cognition, behaviour, and personality. She is currently studying mother-infant interactions in bonnet macaques in Kerala with Dr. Malgorzata Arlet.
C.V. Nishanth Padmanabhan
RHATC - Course Coordinator
I have obtained my Post Graduate in Social works in the year 2014. I'm an ardent naturalist driven by my love and enthusiasm for nature. I'm also keen on learning and documenting about butterflies and birds. I'm currently working as a course Coordinator in Ram Hattikudur Training in Conservation (RHAT-C). My hobbies include bird watching, photography & trekking.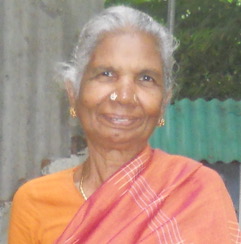 Sarojamma
Despatch Technician
I joined Sally in 1980 much before she started ZOO. When she was at Mysore Zoo I helped raise many tiger cubs, and babies of chimpanzee, otter, bustard and other animals. I saw Sally work really hard when she set up ZOO in Mysore and I moved with her to Coimbatore and have dedicated my life in the service of Sally and ZOO. I work on several things in office and keep everybody on track. Although now I miss Sally a lot since she has retired and moved back to her hometown, I like to compile education materials and cook for the office and I am proud to be called the 'office mom'. In addition to all my kids at ZOO, I have seven children of my own.
Also we hire many temporary and part time employees time to time for short-term as well as long-term projects.