ZOO/WILD's 2012 Activities . . .

Changing local attitudes and behaviour towards Elephants in Kerala, India
The International Elephant Foundation IEF, USA sponsored HECx workshop was held at Centre for Wildlife Studies of Kerala Veterinary and Animal Sciences University (KVASU), Pookode, Wayanad, Kerala from 12-14 October 2012. The centre was the host/coordinator and Nirmala College, Moovattupuzha, Ernakulam was another coordinator of the workshop.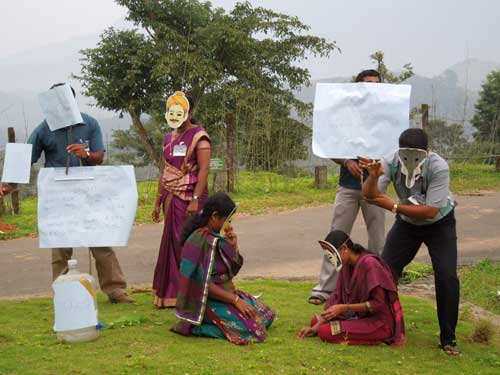 A scene from a mini drama on why my village attracts elephants
About 40 persons attended this educator training and they represented from schools /colleges/ university and forest departments of human conflict areas of Thrissur, Palakkad and Wayanad districts. During the training each participant was provided with a teaching manual, 50 ele-kit packets, drama and finger puppet kit each in order to conduct their own programmes at their area from the knowledge they gained out of the training.
Organiser, coordinators and participants of the workshop
School programme: Subsequent to the workshop, two awareness programmes were planned at the schools and one was conducted on 15 October 2012 at Jawahar Navodaya Vidhyalaya, Pookode, Wayanad. Dr. B. A. Daniel and R. Marimuthu of ZOO and Dr. Gigi K. Joseph, Asst. Professor of Nirmala College were the trainers.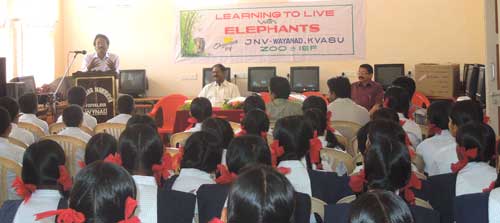 The school students were briefed about Asian elephants, its problems and HECx