Genesis and History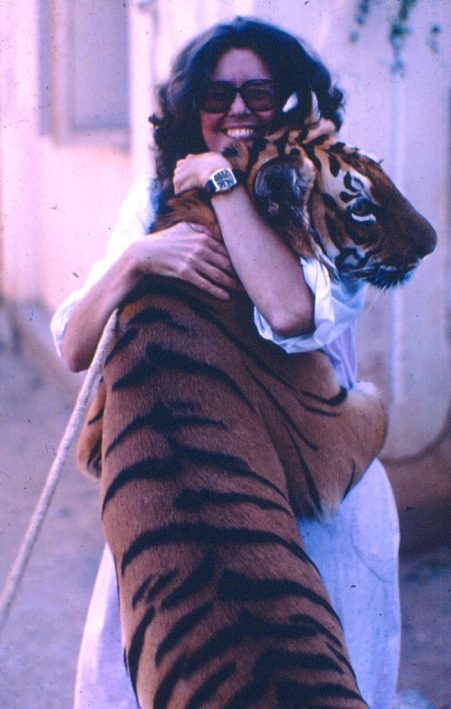 Ms. Sally Walker is a renowned wildlife and zoo conservationist and founder of the Zoo Outreach Organization. She dedicated her life and worked honorarily in this field in India for over 36 years.
Sally came to India in 1975 to study yoga and Sanskrit with Sri Patabhi Jois, a Master of Astanga Yoga and Prof. of Sanskrit in Mysore University. She had stayed on for 7 years and was thinking about leaving when she got involved with the Mysore Zoo. Since observing some misbehaviour of visitors and mischief by staff in an otherwise superb Mysore Zoo, she founded the Friends of Mysore Zoo (FMZ) in 1981. She traveled extensively within India and abroad to see various zoos. This and her constant studies of zoo literature led her to understand there were serious anomalies in standards in the zoos she visited and she brought this up with officials of the highest rank, discussing the difference between the zoos of India with those of other parts of the world. In earlier days, she had learned the consequences of public sniping and destructive criticism and wisely embraced the benefits of "positive and constructive" in dealing with the vexed topic of dysfunctional zoos. Her activities drew the attention of the Department of Environment (DoE) in the Central government. Consequently, in 1985 she was asked by Dr. T.N. Khoshoo to start a national level organization similar to FMZ and apply for funds from DoE for its establishment. In founding this national organization, she wanted to make it clear that it was specifically for helping zoos. Hence, Zoo Outreach Organization with its acronym ZOO; and the cheetah in the logo conveyed that IF zoos had been up to standard in all ways, there would be some cheetahs to attempt a reintroduction for their conservation in the wild. Her objective throughout has been improving zoos ... in all ways: philosophy, vision, and most of all welfare and standards of care.
About the same time, and just after the founding of Zoos' Print magazine, Sally moved to Coimbatore in 1987 to advise a group of businessmen who were supporting the idea of having a modern zoo in the city. Her combined interest in animal welfare generally as well as wildlife conservation and public education has served her well in developing and sustaining a variety of innovative programmes and international relationships in conservation for Zoo Outreach Organization. Sally, under the auspices of ZOO played a major role in lobbying for zoo legislation for India during the late 80's. In 1991 the Indian Zoo Act was passed and in 1992 Norms and Standards for Zoos was included in the legislation. The Central Zoo Authority tasked with implementing the Act was formed and Sally served as a Member for six years.
Over these years she raised funds to survey some of the zoos in India, taking up one species at a time which seemed not to be doing well in zoos or wild, such as Manipur Brow-antlered Deer, small cats, vultures, etc. She also attended her first IUCN SSC Captive Breeding Specialist Group meeting (in 1990 at Copenhagen) and by 1992 she had initiated the first regional network of CBSG in India (now it is CPSG South Asia).
By 1993 with Sanjay Molur joining ZOO, Sally and Sanjay shifted the focus of ZOO from a purely zoo organization to an in situ conservation and meta-population organization. Along with the tools of planning of the then CBSG, Sally and Sanjay conducted several population and habitat viability assessments (single species conservation plans) and Conservation Assessment and Management Plans (multi species risk assessments) leading to cascading effects of developing holistic action for species and habitat conservation in South Asia. In 1995 B.A. Daniel joined ZOO to promote invertebrate conservation in the region along with Sanjay. With networks for different taxonomic groups, publications, training, capacity building, education & awareness, research, conservation planning and action, Sally and Sanjay established the beginnings of Conservation Engineering, which provided a paradigm shift in species conservation efforts in the region.
Sally's focus on education became synonymous with ZOO's mission and several creative education outreach programs in Marimuthu's first tenure with ZOO in the early 1990s and later with the development of several education packets in the late 1990s with Sanjay and Daniel, the shift in ZOO's education outreach made a major shift in 2002 when the Wildlife Conservation Society's Teachers for Tigers was brought into India as a collaborative effort. Sally, Daniel and Marimuthu took the outreach to a different and more productive scale of training trainers, establishing the Zoo Educator Network and making a bigger and lasting impact.
In 2000, along with a select group of South Asian zoo directors, Sally organized a meeting for the first time in Kathmandu, Nepal and founded the South Asian Zoo Association for Regional Cooperation (SAZARC).
The latter activities has also enabled her to follow up her primary interest in the region rather than the country, e.g., improving zoo standards – by catalyzing and nurturing the following major initiatives:
1. to highlight the negative impact of substandard zoos on a whole range of topics, from individual animal welfare to wild animal health and even other zoos which were working hard to maintain excellent standards.
2. to create mechanisms for the organized zoo community (well-managed zoos) to take the lead in improving dysfunctional zoos under the auspices and guidance of the prestigious World Association of Zoos and Aquaria (WAZA), of which ZOO was a member.
In 2003, WAZA conferred the highest award in the zoo profession the Heini Heidiger Award on Sally for her contribution to the zoo profession. She was the first woman, the first non-academic, and the first focused on non-western zoos.