Conserving the endangered and endemic Chamba Sacred Langur – native food plants preference study to devise crop-raiding mitigation strategies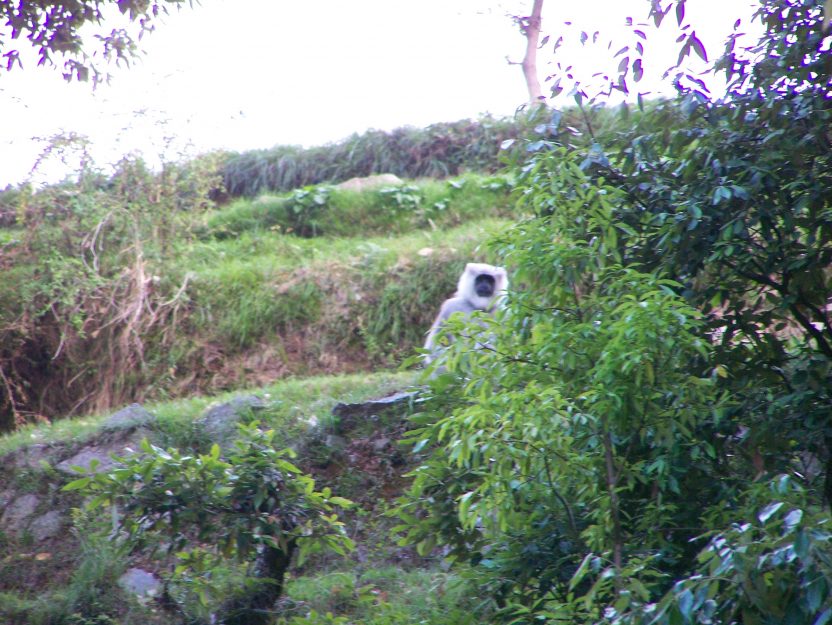 We didn't know enough about langurs in the Himalaya. The Chamba Sacred Langur known only from Chamba is fighting a battle against odds in the valley. We are now in the process of gathering evidence to understand their behaviors so as to reduce conflicts with farmers for their crops, and develop alternative management strategies so as to conserve both langurs and livelihoods

Objectives:
Understand native vegetation composition in and around Khajjiar-Kalatop Wildlife Sanctuary
Understand langur dietary preferences
Activities: The present study was conducted in Khajjiar -Kalatop Khajjiar wild life sanctuary in district Chamba of Himachal Pradesh during, 2017-18 at an elevation of 1500-2400m. The project began its field work in October 2017. Surveys were conducted during snow free period from February to November in 2018 to collect the data on native food plant preferences and collect plants specimens randomly in and around study area. The floristic list was prepared by collecting and identifying the wild plants of Kalatop-Khajjiar wildlife sanctuary and herbarium was prepared simultaneously. Data on Langur's diet was collected based upon opportunistic observation.
Conserving livelihood and Semnopithecus ajax: Crop protection and conflict mitigation in communities around Khajjiar-Kalatop Wildlife Sanctuary: 2014-2016
Khajjiar-Kalatop Wildlife Sanctuary
Human-primate conflict is burning issue in Chamba with 76 of the 244 surveyed sites reporting conflict with langurs due to their crop raiding practice. No crop-protection system is in place in any of these sites. In certain sites, farmers report extreme helplessness in controlling langur crop raid. The helpless attitude spurs antagonism and has adverse conservation implications. Farmers in Chamba engage in guarding crop fields, employ dogs to raise alarm during raids and to chase langurs away, use sounds and even shot guns to scare langurs and macaques but to little or no effect. Translocation and sterilization of pest macaques has offered little in terms of a solution to the issue. The project seeks to address the conservation issue through methodological study of temporal and spatial dynamics influencing raiding, raider behavior, and quantifying damage suffered post raiding events. The information would help in designing and evaluating site specific crop-raid deterrents and explore alternatives to reduce loss. The identified stakeholders will be involved in the project in every step and will be partners in building Conflict Mitigation and Conservation Management System. This stakeholder system will be empowered to sustain a conflict-free environment in Chamba and a sustainable future for Semnopithecus ajax.
Project Objectives:
1. Analyze cause of crop raiding and conflict, community's perception of raiding, definition of loss community's attitude towards crop-raiding langurs and their solution to the issue. Understand raider behavior and quantify damage due to crop raiding langurs.
2. Establish site-specific raid deterrents through stakeholder run Conflict Mitigation and Conservation Monitoring System.
3. Gender inclusive approach to conflict mitigation: involve all members, especially women, to promote holistic resolution strategies.
4. Establish, monitor and contribute to Conflict Mitigation and Conservation Monitoring System to promote and strive for sustainable living and therefore benefit conservation of Semnopithecus ajax.
Project so far:
1. Questionnaire survey/Informal interviews in 12 villages in and around the Khajjiar-Kalatop Wildlife Sanctuary. Surveys were conducted between May 2014 and September 2014 in 12 villages around Khajjiar-Kalatop Wildlife Sanctuary.
2. Potential stakeholders identified and were briefed about the project and their participation sought. (May through September, 2014)
3. Project presentation at the Village Leader's Gathering (Panchayat Sabha) and interested villages were invited to participate in the project-the first step towards building the CM2 platform. (November 2014).
4. Village heads requested to nominate volunteers from their villages to participate in the project (November 2014-yet to hear from the volunteers).
5. We have been successful in identifying potential female stakeholders in mid-wives through our local associate, Arpana Research & Charities Trust, an NGO dedicated to community welfare and development.
6. We also met with women holding positions in local Panchayats and briefed them about the project and its objectives.
Conserving Himalayan Grey Langur through a participatory stakeholder conservation initiative: 2012-2013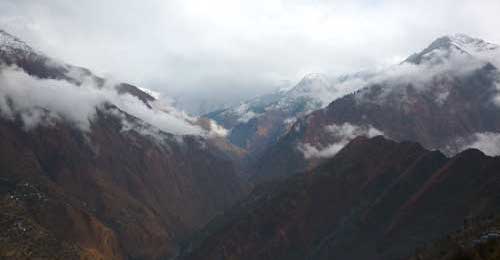 The Himalayan Langur Project field site during snow - Durgund, Chamba
The Himalayan Grey Langur project, an initiative funded and supported by Rufford Small Grants, Conservation Leadership Program's Future Conservationist Award, and Mohamed Bin Zayed Species Conservation Fund began field studies in May, 2012 in Chamba district of Himachal Pradesh. The project has now completed its first phase of baseline surveys in Chamba, in view of establishing a participatory conservation and management practice in the region for the Endangered Himalayan Grey Langur, Semnopithecus ajax.
Goal: The goal of the project is to establish holistic conservation for the little known, endemic and Endangered Himalayan Grey Langur through participatory conservation in Chamba, Himachal Pradesh.

Baseline surveys: Since its description in 1928 by Reginald Innes Pocock, the Himalayan Grey Langur has remained virtually unknown (Pocock, 1928; Groves & Molur, 2008). A countable number of studies that claim to be of the Himalayan Grey Langur are largely unsubstantiated on the taxonomy front failing to establish the specific identity of the primate in question (Sayers et al,2008; Minhas et al 2012). Absence of credible information on the Langur distribution, biology, habitat and conservation threats sound brewing trouble for the langur. Himalayan Grey Langur project works to establish credible data on the Langur through rigorous scientific field studies. On-foot surveys to locate and map langur localities coupled with community surveys to understand socio-economy and livelihoods as factors that influence the Langur's viability help in building a credible understanding of the Langur's status in its type locality. The information is crucial in formulating any conservation strategy for the Langur in the region.

Foot surveys and community surveys began in early May 2012 and since covered a significant number of sites, across the seven district blocks of Chamba district. Langurs were sighted in 30 of these sites and in cases where they weren't sighted first hand, their presence/absence confirmed through community interviews. Structured community interviews that help understand human-langur relationship are administered in local languages and dialects and have brought many conservation issues of serious concern to the forefront.

Taxonomy: The taxonomy of the Himalayan Langurs have for long been a puzzle lending any conservation initiative unviable. (Bishop, 1979; Karanth et al, 2008). The Himalayan Langur Project works to decode the puzzle through rigorous taxonomic studies in collaboration with Indian Institute of Science. Scat samples are collected for DNA studies on the langurs during surveys, where available, to understand the taxonomic status of these primates. This will aid in developing a species specific conservation plan for the langurs.

Conservation Education and Outreach: In line with its goal of setting up holistic conservation in the region, the project is about to embark on outreach activities in Chamba. A poster emphasizing on the uniqueness of Semnopithecus ajax and its conservation values was produced along with the conservation magazine Achamba! The Himalayan Langur Project is now moving into its second phase of activities in Chamba mainly focusing on human-langur relationship dynamics and conflict mitigation. The program will effectively focus on sensitizing the population of the presence of an endemic and Endangered species like the Himalayan Grey Langur and in garnering support for the same. This will lay the foundation for a future participatory conservation and conservation monitoring initiative in the region.

Forthcoming activities: The project is hoping to expand its activities in Chamba to study the distribution, biology, behavior and biogeography of the Himalayan Langurs. Collaborations are underway with potential stakeholders, other wildlife researchers and Himalayan Langur specialists working elsewhere in the Himalayan stretch to aid in comparative and corroborative research and understanding.

The project is seeking to raise more funds to expand its activities in the region and to establish a viable community involved conservation initiative in the region.

The Team: Martina Anandam and P. Vishal Ahuja

For more details on the project please write to: zooreach@zooreach.org

Semnopithecus ajax adult females with
infant at Gajnoi

Semnopithecus ajax adult male

Poster and magazine

Field survey with the team at Lakkarmandi Martina and Vishal